What is the World Islands?
The World is a luxury property development by Nakheel Properties, a man-made archipelego of islands off the coast of Dubai in the Jumeirah area, built to resemble a map of countries of the world, with each island or group of islands representing a country, region, or city in the world. It is not to scale and each island is sold to an individual or company which will develop a resort or property of some sort.
The World Islands consists of 300 small islands divided into four categories – private homes, estate homes, dream resorts and community islands.
The islands was finished in January 2008.
The first 5 star hotel Anantara opendd in the islands in February 2022.
The 5 star hotel Cote D´Azur in The Heart of Europe will open in December 2022.
The Heart of Europe project includes the building of a series of luxury hotels, private mansions and floating villas, each of which is designed to transport guests to different European destinations, including Monaco, Venice, Sweden and Germany.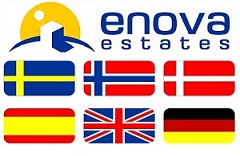 Head Office:
Enova Estates S.L.
Manilva Beach II Local 7,
29692 La Duquesa, Manilva,
Malaga, Spain.
EU VAT no.: ESB93253060
Björn Ingbrant
Tel: 0034 669 807 133
Email: bjorn@enovaestates.com
Dubai Office:
Sales manager: Maria Arenas
Tel: 00971 58 587 1447
Email: sales@enovaestates.com